Trello is a productivity software, developed by Fog Creek Software Inc., that is an easy to use and infinitely flexible organisational tool. Earlier this week, it broke away from the Fog Creek umbrella to become it's own company, Trello Inc.
I've been using both the browser version and the iOS app on my phone since the very beginning. In fact I'm a proud owner of the Trello Gold ;), which puts a healthy dose of fun into this already pretty fantastic piece of kit. The iOS app is what we're going to focus on today, because it is a pretty seemless go-between for the web browser version, and in todays increasingly "mobile" culture, a great mobile app is crucial.
Let's start with the price, and that right there is a piece of good news. Trello is completely free to download from the Apple Store. There are plenty of other organisation apps out there promising less and asking you to spend your pennies (and in some cases pounds) on them, so I'm going to award a few brownie points straight away just for being free.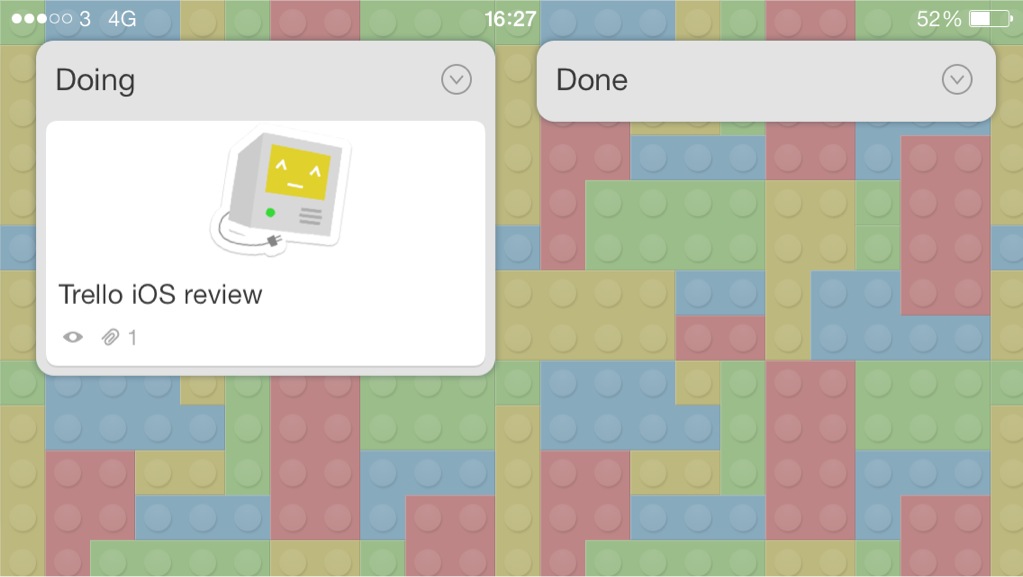 Trello's set up is half-way between a whiteboard and a card index library, and the system is broken down like this:
At the highest level there are boards that represent the high level topics. For example, I have boards for all of my current SEO projects, content creation, publishing calendar, outreach boards and many more. I will soon do a couple of tutorials on how to use Trello to organise specific tasks like blogger outreach or managing teams of your freelance copywriters.
Underneath each of these boards are a number of cards. These cards represent the sub-topics. In my case, I could have cards on each individual SEO project, or on all the different external design projects. Each of these cards can then be further expanded upon by adding attachments, checklists, and labels. You can invite other team-members and colleagues to contribute to some, or all, of your boards or cards.
All activity is synched via the cloud, so my team using this app are kept up to date in all the projects they're working on. Then when I  get back to the office, I log on to the browser version of Trello and take it from there. This is very handy as I'm often away meeting clients or attending various SEO events around the country, the ability to manage my team and assign them tasks when I'm away from the office is pretty crucial for me and this is why I love Trello so much.
It takes a couple of seconds to create a board from the app, and few more seconds to name it. You can then add the details for each of the boards and cards, before inviting the relevant team-members and colleagues to the project boards they are working on. Setting up all of this takes only minutes due to the bold and clear interface. There aren't any complicated commands, or endless menu/option screens to navigate through.
Now that the other people working on my projects are using Trello, I get notifications and can see everything they are doing in real time. I don't need to spend every moment ringing them up for an update, which in turn means they don't have to phone me to provide updates of their own. Everyone can see the progress a project is making in real time, all in the same place.
Obviously, as with any mobile version of software, there will be drawbacks. However, we have searched high and low, and all we have managed to find is that there are limitations on the number of board options in comparison to the browser version, missing options to copy or close boards. Lessening this blow is a recent update that allows app users to manage cards in bulk, favourite different boards, and  get expanded control over board/card subscribing.
And that's it. Except for emojis not being rendered, but is that really the end of the world? I'm sure your project will continue regardless of if the winking smiley face appears or not.
Trello is certainly worth a look. It's not one of the most in depth productivity applications out there, but it does provide a quick and easy way to collaborate on projects with a number of people.
If you want to give Trello a look you can find it in the app store here.