Updated April 2020
If you have ever worked on SEO for an eCommerce website, you'll know that one metric matters above all others for the client: sales. But what if sales are failing to materialise? Below are some of the reasons which may be stopping your visitors from buying.
Your website is too slow
Visitors to your website will only wait so long for a page to load. We're all short of time and rather impatient online, and if your website doesn't feature fast loading pages, most people will quickly reach for the 'back' button.
How to check your page speed.
You can use tools like Google Page Speed Insights, Google Analytics or Pingdom Website Speed Test to check your pages.
Make sure the page loads fast on all major devices including both desktop computers and handhelds such as smartphones and tablets.
How to fix: Google Speed Insights will give you some great tips and will point out the elements of your page which are proving problematic. For example, on an eCommerce website it'll point out if product images are simply too big.
Your website is not optimised for conversion
Does your website feature trust signals? These are very important. Unless you're a big, well established website, visitors will be reluctant to trust you. You therefore need to elicit an air of trustworthiness and security. It is also advisable to display any badges, certificates or accreditations you possess prominently.
Is your call-to-action/buy button visible without scrolling? If not, it should be 'above the fold' – i.e within the top third of the page.
Do you have a Trustpilot badge with a 5 star rating on it?
Is your website using https?
Your website is downright ugly
Do you still use white fonts on a black background, animated gifs and a marque? If so then you should probably have a chat with a decent web designer. Just like fast web pages, visitors expect websites to be aesthetically pleasing, professional-looking (in terms of design) and pleasing to navigate. There are, of course, exceptions to this rule (lingscars.com) but you don't want to be in that minority!
You have too many bad reviews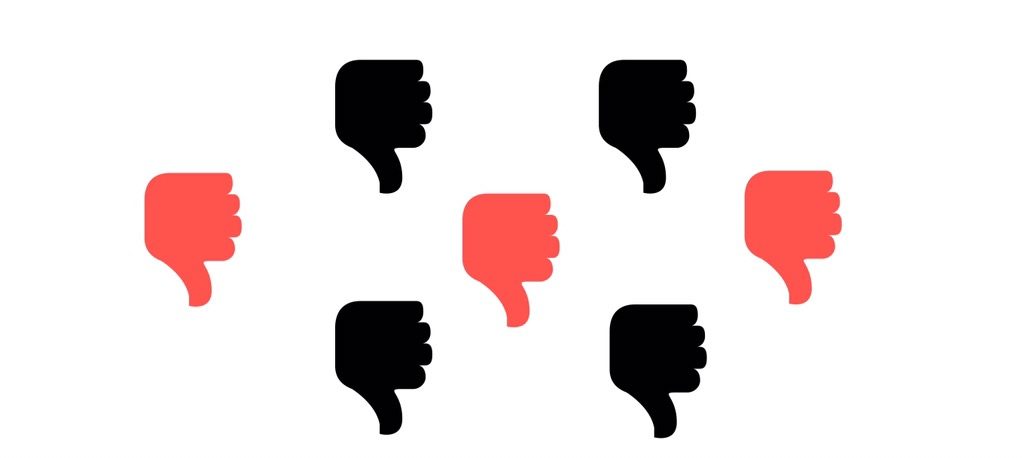 This is a tough one. If your products are of poor quality, your deliveries arrive late or the customer service is terrible then word will spread out fast. In the age of customer review websites like Trustpilot and social media, your reputation can be tarnished quickly and without you even realising. Customers are king and they now drive purchasing decisions.
Your prices aren't competitive
If people can easily find your products elsewhere for half the price, you'll probably struggle to make sales.
Price is a very important factor – especially if the goods you're selling are easily available from other vendors.
I used to work with a large retailer and I managed to rank them for well over 3,000 keywords. They were getting tens of thousands visitors each month, the website was well-optimised, yet they struggled at making sales; people were leaving their website without buying. We benchmarked the website in question against industry leaders and everything was on par, except for one thing. Yes, you've guessed it: pricing!
You are not using remarketing
Believe it or not, potential customers are not racing to push the "buy now" button on your website. They will most likely perform research, compare and, in general, shop around before they commit to the purchase. By using clever remarketing techniques, you can bring them back to your site. There is a number of platforms you can use for remarketing, the two most popular are Google AdWords and Facebook.
There is no easy way for your customers to ask questions.
Every now and then a customer may need some additional info or have some question regarding your product. These could be things like sizing, delivery etc. A good and efficient way to solve this is to have a chat feature on your website. The advantage of chat over email is that is more of a real time communication. If a customer can not find all the information on your page, they may as well move on to another website and buy it there. Much easier for them then having to write an email and waiting for someone to get back to them.
Summary
The above points are all worth consideration if you are experiencing slow sales with an eCommerce website. It is worth bearing in mind, however, that there may be other factors some of them outside of your control. Always do a thorough research and keep an eye on your competitors.
Image Credits: https://pixabay.com/en/e-commerce-shopping-basket-shopping-402822/